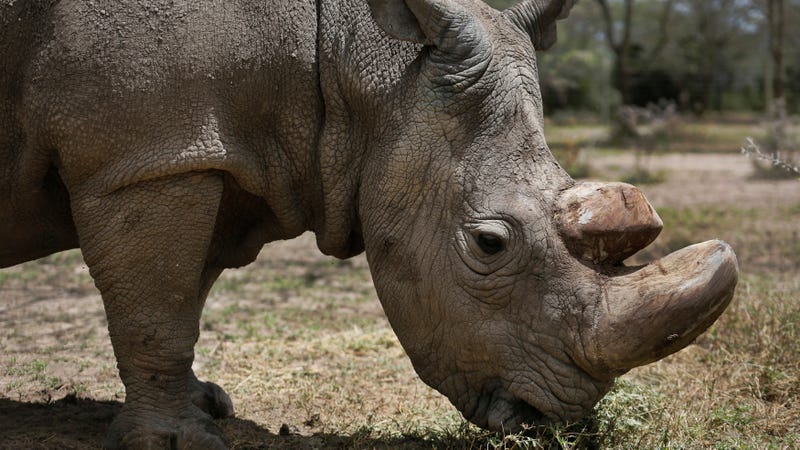 Death did not sneak up on Sudan, the last male northern white rhino, who was put to sleep on Monday after a months-long battle with a number of health complications. He was 45, and there will never be another animal quite like him.

The health of the world's last male northern white rhino, Sudan, is rapidly declining, bringing the subspecies' inevitable extinction closer to a reality. Even as scientists and conservationists work on an ambitious in vitro fertilization effort, there's little reason for hope that the 45-year-old Sudan and his two…
Parched earth and dust storms extend across much of the Theewaterskloof Dam, an area normally filled with several hundred million cubic meters of water sparkling under the Sun. Sand dunes, built up within the largest dam in South Africa's Western Cape Province, almost completely bury parts of the barbed fence intended…
Populations of large, wild herbivores aren't doing that great. Some 60 percent of large herbivore species are threatened with extinction thanks to overhunting, poaching, and the depletion suitable habitat. Now, researchers have zeroed in on another human-driven source of trouble for these animals: armed conflict. In…
In Kenya, humans and lions have shared the same lands for generations. This coexistence can get messy when lions start feeding on herders' livestock.

While there are still over three million lesser flamingos worldwide, their existence is increasingly threatened by the piss-poor conditions of the lakes they rely on for survival.
President Donald Trump's oldest child, Donald Trump Jr., shoots from the hip when he talks, and he shoots large animals for fun. These are the main things we know about him. While the former is often more newsworthy, that's been upended this week, with the Trump administration's extremely controversial announcement…
Sometimes, a photograph expresses something more powerful than any number of words. That's the case with this year's Wildlife Photographer of the Year winner, a brutal shot of a rhino that was murdered and left intact except for its horn.