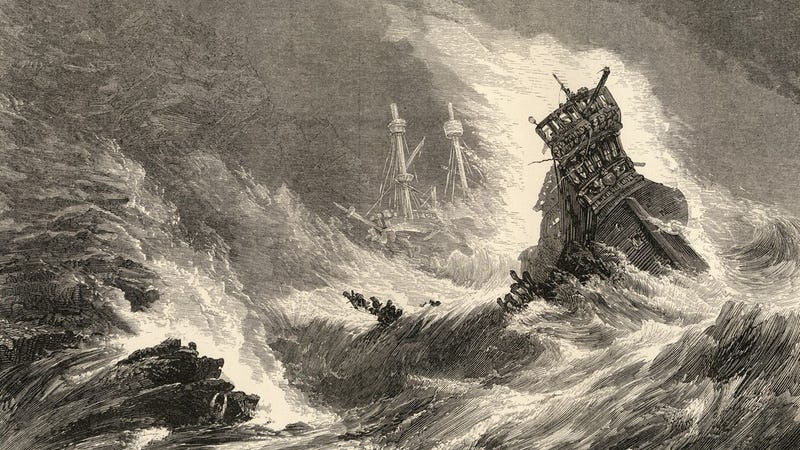 Thousands of sailors perished in stormy seas throughout the Caribbean in the 15th, 16th, and 17th centuries. Surely they would never have guessed that their terrifying ends would help scientists in the future. But creative researchers have found a link between historic Spanish shipwrecks, hurricanes, and the climate.

Even though the news cycle has moved on and shifted the focus away from Puerto Rico, the island is still struggling to recover from hurricanes Irma and Maria that ravaged the island, killed hundreds, and left over a million people without power. Though many have forgotten Puerto Rico, Lion Forge hasn't.

Climate change impacts are felt disproportionately around the globe. And it turns out geoengineering—the most radical, and potentially ill-advised solution to climate change—could further turn the world's weather on its head.
Climate change affects everyone, but in the immediate aftermath of "natural" disasters, the poorest among us suffer the most. In Splinter's new series, Fault Lines, we explore the many ways our society's most vulnerable people get hurt by climate-related crises.

Remember the U.S. Virgin Islands? Y'know, those little islands that sit in the Caribbean Sea not far at all from Puerto Rico? National attention has largely ignored these islands and their American citizens since Hurricanes Irma and Maria. So, we thought you might need a reminder that they're still in crisis.
The extraordinary 2017 hurricane season continues apace this week, as Ireland braces against the remnants of hurricane—yes, hurricane—Ophelia, whose fierce winds reached the country's southern coast Monday morning. Ophelia astounded meteorologists on Saturday when it intensified into a Category 3 hurricane farther…
In what has become a numbing succession of severe storms, tropical storm Nate has emerged in the southwest Caribbean. The storm, which has already produced deadly flash flooding and mudslides in Nicaragua, Costa Rica, and Honduras, is expected to intensify into a Category 1 Hurricane and reach the US Gulf Coast early…
Undersea laboratories feel more like a science fiction trope than a real thing, but the world is home to one such fantastical structure, a marine science laboratory called Aquarius located 3.5 miles off Key Largo, an island in the Florida Keys, and 62 feet underwater. It was badly damaged by Hurricane Irma, but in the…
When Hurricane Irma plowed into Florida's southwestern coast as a powerful Category 4 storm last month, it tore up seagrass beds, stripped mangrove forests of their leaves, and overall, left what looked like a trail of ecological apocalypse in its wake. But it's now been a few weeks since the storm, and as scientists…
A week after Hurricane Maria tore through the Caribbean, Puerto Ricans are still struggling to get basic relief supplies and make contact with loved ones. But as the US territory's leaders focus on the looming humanitarian crisis, scientists are starting to think about another longer-term impact of the storm, its…