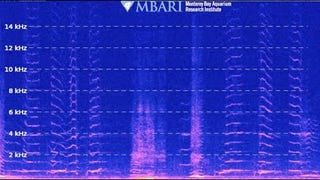 The Great Pacific Garbage Patch is greater than we ever thought. And by greater, I mean worse.
As global temperatures rise, coral reefs are struggling—visibly. But while the link between overheated ocean water and reef death is well-documented, a new experiment is reminding scientists that the effects of ocean acidification could prove as catastrophic over the long run.

As Earth's atmosphere soaks up an ever-increasing amount of carbon dioxide, our oceans are becoming more acidic, which is causing problems for animals that create hard shells, from crabs to shellfish. Now, new research has revealed a more subtle and sinister consequence of acidification. By the end of this century,…
Hydrothermal vents, where heat and minerals from the Earth's interior bubble to the seafloor, foster unique and under-appreciated ecosystems. New observations from the Galapagos suggest that at least one species, the Pacific white skate (Bathyraja spinosissima), uses these vents to incubate its egg cases—a behavior…
The deep ocean may be Earth's largest ecosystem, but for obvious reasons it's difficult to figure out what's happening down there. A team of researchers is now shedding some light on the question of who eats whom in the deep, by examining decades of footage collected by robots off the central California coast. The…
North Atlantic right whales had very a rough year, and they can't take many more years like it. A new study warns that if we don't enact tougher and more flexible conservation policies in the face of climate change, the species may be doomed.

When ocean waters are too warm, corals can become stressed, causing them to eject the symbiotic algae they rely on for food. Known as bleaching, this process turns the corals stark white, making them susceptible to starvation and death—and it's getting worse because of climate change. However, a new study offers some…